We are professional liability insurance specialists when it comes to the professionals in the IT Field. Being in business for decades has provided us the insurance companies and the appropriate resources to carve the best insurance for our clients. We insure IT professionals across Ontario, Canada and welcome all IT professionals to apply for a free quote. Our company encourages all new professionals in the field as well as those who currently hold and insurance policy to apply for a free quote. Our focus is to provide the best coverage, or beat your current one!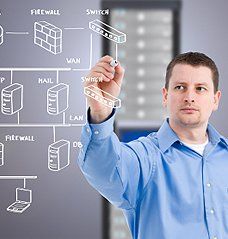 Professional Liability Insurance (PLI) is a type of coverage which is acquired by professionals to shield themselves from financial liability in the event of a law suit arising against them. Your clients are the reason behind your success but one mistake and the tables can turn. A single lawsuit can jeopardize a businesses future operations as at times lawsuits can reach into millions of dollars. In many industries this type of insurance is referred as E&O insurance also known as errors and omissions insurance. Having professional liability insurance for an IT Specialist/programmer/analyst/consultant is an absolutely must.
It is often the case that professionals feel they do not require any insurance as they operate from their home or have a few small book of clients. Our response to that is… ABSOLUTELY WRONG. Even if you have 2 clients a year that you are servicing, you are at a risk of a lawsuit coming from those clients. Businesses from thousands of employees to those operating out of home offices require liability insurance to cover their risk exposures. Not having insurance in place not only puts your business at risk, but also determines your businesses or professional careers future. A small software error, misleading advice, or any omissions can cause a lawsuit. The right time to get insured is before providing any professional service to the public. It is also best to never ignore the fact that there are no grounds necessarily needed in Canada for one to sue another, so when we say be covered, we mean it.
Some addition coverages you should have
GL will protect your business in the event any physical damages or bodily injures arise as a result of your operations. Imagine being at a client site and destroying some hardware or dropping a massive hard drive on somebody's foot. Yeah this may sound unlikely to ever occur, but this is why insurance exists. Oh, and people do sue. Wouldn't you?
Works comp provides coverage to employees in the event they get sick or injured while working.
If you travel from one location to another or often use vehicles to commute for work, your auto policy must be upgraded to a commercial auto policy. Regular automobile insurance in most cases does not provide coverage for commercial operations.
Cost of IT Insurance
Every policy we write is constructed specifically to your business needs. To clarify further, your coverages are tailored specifically to your risk exposures. We do not generalize professionals as in those cases some clients end up paying more for coverages they do not require. Our prices start from $500/YEAR for $1 Million Liability coverage. We can quote liability limits anywhere up to $20,000,000. If you are interested in getting a quote for your business or are unsure about the amount of coverage that is right for your business, please do not hesitate and request a quote below. We are experts when it comes to IT professionals and know the scope of your business.
Request a quote

FAQ before purchasing IT professional liability insurance
Other useful posts you should also read
Other professions we also provide insurance for: