What Do Private Investigators Need To Know About Insurance Policies
Private Investigators in the Ontario area are thriving, however, before investing in your own business, you might want to consider private investigators professional liability insurance. Private Investigators are without a doubt considered a high-risk profession, as they are faced with a variety of risk on any given day. This is why any expert in the field will tell you that you also need to bundle your E&O private investigators insurance with commercial general liability insurance. Private investigators have to utilize a variety of different methods to determine the facts in a variety of situations. Maybe you are working on a missing kids case and tell your client that his or her last seen location was in Ontario.
What happens if the couple travels to Ontario and it puts them even further behind in their search, all just because you were misinformed? This is not to even mention the expenses it took for them to travel. Well, whether you are at fault or not private investigators E&O insurance can protect you from mental anguish charges and lawsuits. Commercial general liability works a bit differently, as it can protect you in the event that you cause bodily harm to an individual. If you are trying to apprehend a suspect and slam them too hard it could result in hefty medical bills, which might lead to a lawsuit. CGL will cover the medical expenses or the legal court costs.
We recommend of coverage of professional liability of no less than $1,000,000 along with $2,000,000 CGL. Rates starting from $600/Year for professional liability and $400/Year for CGL.

The Other Policies You Need
It might seem like E&O private investigators insurance and CGL is all the coverage that any private investigator needs. Unfortunately, that is not the case. As mentioned-above PIs are faced with a variety of risks on any given day, and this is why it is always imperative to ensure that you are protected. It is important to go into the ordeal with eye wide open and in order to do that; you need to know about some of the other policies you need to acquire.
Whether you have employees or not, you are going to need commercial auto liability insurance. In fact, as a PI you will probably spend more time traveling in your vehicle than in the office. Long hours on the road can lead to exhaustion and confusion. And, this is why commercial auto liability insurance is a must. In the event that you hit and kill someone or destroy his or her property, this coverage will protect you. It can pay for you medical costs, the costs of the accosted party, both parties vehicle damage, and any property damage.
Commercial Auto Liability Insurance Recommended Limits – $200,000 Per Claim / $500,000 Aggregate
Firearms Coverage Endorsement
Your firearm will become you best friend on the road and since it is registered in your name, you must protect it at all times. You don't want someone to get ahold of it and you don't want to be caught without it. This is where firearms insurance can come in handy. In the event that your firearm is stolen or damaged while on the job, the policy will cover your losses.
Firearms Coverage Endorsement Recommended Limits – $5,000 Per Claim / $20,000 Aggregate (You can go as high or low as you want depending on the types and number of weapons that you carry.)
Cyber Liability Insurance
At any given time you will have a variety of provocative information on your laptop. Maybe you have pictures of a cheating spouse or your client's billing information. Whatever the situation is, if a hacker gets a hold of this personal information and leaks it, you could be in a major situation. Depending on the popularity and temper of the client you might be looking at a hefty lawsuit. This is the type of situation where cyber liability insurance can come in handy, as it will protect you from legal fees.
Cyber Liability Insurance Recommended Limits – $100,000 Per Claim / $500,000 Aggregate
Know The Costs Beforehand
It is no big secret that the PI business, just like other 100's of other professionals that need insurance, is a risky one, which means you can expect to pay more for certain types of insurance. While the business might be risky, there are still a variety of other factors that can determine the overall cost of your insurance. For instance, your previous driving record and credit history can play a major role when it comes to the cost auto liability insurance. Nonetheless, you at least need to have a basic ideal of what you can expect to pay.
Commercial Auto Liability Insurance – $900 a year per employee
Firearms Cover Endorsement – $100 to $200 a year
Cyber Liability Insurance – $30 a month
Don't get too fixated on the prices, as these could be lower or higher based on your specific record and needs. Give us a call or visit us to get a more accurate quote and learn to apply for liability insurance with the help of our professional standing by.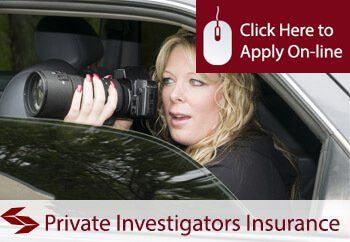 FAQ before purchasing private investigators professional liability insurance
Other useful posts you should also read
Other professions we also provide insurance for: